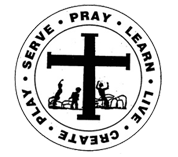 Mission Statement

St. Edward Catholic School exists to provide a comprehensive academic foundation that empowers children in their faith journey by teaching Catholic values while encouraging lifelong service.


Vision Statement
We anticipate a mature, knowledgeable person who is spiritual, responsible, respectful and uses his/her God-given talents toward global citizenship.


School Philosophy
We believe Catholic education includes the development of the whole person; including mind, body, and spirit.
We believe that by fostering a peaceful environment we promote educational achievement, belonging, and happiness for the entire school community.
We believe that we must strive to provide the foundation for teaching others to live the good news of Jesus through ministry and service.
We believe that differentiated teaching methods stimulate students to develop their God-given abilities, self-esteem, and respect for the community and the world.